Germ Wrap Disinfection KILLs What Cleaning Companies Leave Behind! #GetGermWrapped
GermWrap Disinfection KILLs What Cleaning Companies Leave Behind! #GetGermWrapped
Aids in preventing the spread of Covid-19
Routine and emergency applications
US EPA registered broad-spectrum disinfectant
Every day we are surrounded by germs that cause disease and sickness, but regular cleaning doesn't get into the hard-to-reach places. GermWrap offers you a healthier, more efficient way to disinfect your living and workspaces.
Our electrostatic disinfectant application provides 360 degrees of comprehensive solution coverage, eliminating 99.9999% of hidden germs. It's the hassle-free, mobile way to a healthier space.
It's the most comprehensive and effective way to disinfect killing 99.9999% of germs.
The direct connections between cleaning for health is becoming better understood, and the facility decision makers are recognizing that effective cleaning and disinfection helps with breaking the chain of pathogen mobility.They realized that cleaning for health ties directly into what most facilities want so the need was born. The two found the most innovative technology to fulfill the need of total disinfection. They partnered with the inventor of an electrostatic spraying system to apply electrostatic technology to disinfectants. The two were amazed how ionizing the water base disinfection solution would wrap around the objects that were sprayed. Soon thereafter, GermWrap was born with location in Houston and Central and South Texas. Little did the founders know how great a need there is for this innovative motive for disinfection not just in the medical space, but in the transportation, education, manufacturing, athletics, day care, and residential spaces. GermWrap continues to grow everyday with new customers all while servicing their existing customers with the same great customer service they developed from their medical device careers. Give GermWrap a call today to get a more comprehensive demonstration today!
Read More
The two founders of GermWrap have a combined 20 years of experience in the medical device arena. They were responsible for supporting capital equipment through service in locations like: intensive care units, emergency departments, operating rooms, med-surg floors, labor and delivery departments in hospitals, emergency medical services facility and ambulances, as well as surgery centers. The founders both were responsible for millions of dollars in revenue year after year with proven successful careers. They noticed the lack of attention that was put into cleaning and disinfecting the equipment they were responsible for, as well as the outdated methods used for disinfecting in the facilities they were working in. Today, cleaning is about a lot more than making facilities look good. GermWrap is committed to providing exceptional electrostatic disinfectant services, creating healthier spaces and healthier people.
When it comes to office sterilization in Central Texas, no other service outperforms GermWrap. Our professional disinfectant services kill 99.9999% of germs in your office, providing 350-degree coverage from ceiling to floor and wall to wall. We can disinfect entire office rooms in a matter of seconds- not hours.
Related post authors include:
Green Plan LTD.
18931 111 Ave NW
Edmonton
AB
T5S 2X4
(780) 455-4292
green-plan.com
Our professional services include: Environmental Assessments; Design and Mitigation Planning, Federal, Provincial and Municipal Permitting and Compliance Management. Our professional team includes; Environmental and Regulatory Experts; Land Use/Mitigation Planners; Biologists, Soil Scientists and Land Reclamation Planners, Agrologists; Foresters; Stakeholder Consultation Experts and GIS Technicians.
Green Plan LTD.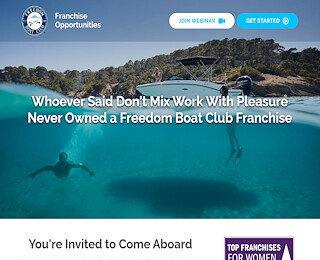 You could become the proud new owner of a boating franchise through Freedom Boat Club and turn a profit in an industry you're passionate about. Everything you need to know about our franchise opportunity is available on the Freedom Boat Club website- explore our 'Franchise' section to learn more about becoming a partner.
Freedomboatclubfranchise.com